Period: 3 September 2003 - 29 February 2004. Country: Bangladesh
(1) Wetland Resource Management Program and Reconstruction of the Resource Management Regime in Bangladesh
SHIME Taisuke (Division of Southeast Asian Area Studies)
Key Words: Bangladesh, Resource Management Program, Development Discourse, Cultural Politics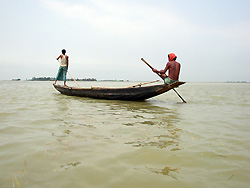 A wetland (haor in Bengali) in Sunamganj. Almost the entire area is covered with water during the rainy season, and the villages become islands in the haor.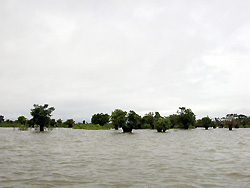 Remains of a swamp forest.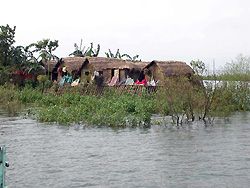 A village in a haor.
(2) In this study, I will explore certain facets of development projects and social change that have long been studied in development sociology and anthropology from various perspectives. One of the most important topics in those studies during the 1990s was the institutional effect of "development discourse." Under this approach, development is described as discourses (in the Foucauldian sense) forged by particular forms of knowledge and power, which create an apparatus that produces a knowledge concerning 'Third World' countries, and exercises power over people. However, it is now becoming clear that we should take into account not only the effects of discourses, but also the dynamic process of development practice and changes in it. Recent studies demonstrate that a development program is a process of 'cultural politics,' a process of contestation and negotiation by multiple actors who make the process rework itself. Moreover, through this process of reworking, development programs provide an arena for all actors—with either an implicit or explicit relationship—struggling over rights to the resource's management, utilization, and distribution, to define the forms and legitimacy of government.
In the context of natural resource management, it is argued that the degradation of local resources and the vulnerability of society to disaster are closely related to moral failure and the illegitimacy of the political regime in each historical stage. In short, the mismanagement of resources and natural calamities cannot simply be construed as the collapse of common property regimes or the failure of state control, but should be seen as the collapse of the state-society relationship. Consequently, 'cultural politics' that take place in the process of resource management projects can be described as the reconstruction of a new state-society relationship in the context of resource management.
In my research, I will focus on 'cultural politics' in community-based wetland resource management programs in Bangladesh, and the reconstruction of the resource management regime on specific issues, namely representations of 'community' and resource distribution, knowledge process and reforming of resource use patterns, and the process of contestation and negotiation of rights to resource use and management. I will discuss these issues in the sense of a reconstruction of the resource management regime between state and society.
(3) One of the purposes of my visit to Bangladesh was to find a site to conduct research. To find a proper site, I visited some areas in Bangladesh, especially those where SEMP (Sustainable Environmental Management Program), financed by UNDP, have been implemented. The program areas are located in the districts of Rajshahi, Satkhira, Sunamganj, and Maulvi Bazaar. Different Gos (governmental organizations) and NGOs (non-governmental organizations) are implementing these programs, which are administrated by the Ministry of Environment and Forest of Bangladesh.
After visiting these areas and collecting formal documents of the programs, I decided to do my field research on the wetland (haor in Bengali) resource management programs at Sunamganj and Maulvi Bazar. The following programs are being implemented in each of the districts:
Sunamganj: SEMP and CBFM-2 (Community-Based Fishery Management Phase-2)
Maulvi Bazar: CWBMP (Coastal and Wetland Biodiversity Management Project), with the above two programs.
Another purpose of this visit was to observe what issues, in terms of resource use and management, are being contested and negotiated in this area by the actors, and to find hints for my research topics. I interviewed some important actors such as CNRS staff members, local government officers, CBO (Community-Based Organization) members, and local staff members of UNDP. I found some interesting stories that can demonstrate how different actors contest and negotiate on use and distribution rights for wetland resources. In support of my statement, I will cite the example below:
In Maulvi Bazar, wildlife conservation is conducted in one small forest adjacent to a haor. In the process of this program, I have seen different actors carry out negotiations and compromises to defend their own interests. Since Bangladesh's independence as East Pakistan, there have been conflicts between government and the community on the proprietary rights of this small forest. On one hand, local people claim that Zamindar, the local landlord, gave the forest away to the community before independence, while on the other, the government claims that the lands once owned by Zamindar were registered as government lands in 1956, when the land reform was carried out, and that the land wherein the forest is located is no exception. In addition to this conflict, there are two other important aspects that should be addressed. One is that a shrine of an Islamic saint and a graveyard for the community are located in the forest. The other is that at the outset of SEMP, people in the area looked at the project with suspicion, and refused to accept it. Looking at how the goal of wildlife conservation has been reached, as far as can extrapolated, I can see that the various actors operated with different intentions and strategies. NGOs had to take recourse to multiple activities of various scopes in this area to implement SEMP; the government approved the program in order to claim authority over the land. The local people recognized that to ensure their actual rights to manage this forest, they would have to avoid registering their village committee as a CBO with the local government so that they could be free from government control. This example shows that a project cannot always control the people as a 'project of control,' and therefore that one can assume that a variety of actors will contest and negotiate for rights to resource use and management in different ways.
In my next field research, I will examine how these different actors contest the meanings of their resources in the context of social relationships; how they rework the project; how they make decisions on resource use and management; and consequently, how they reconstruct a resource management regime in terms of wetland resource management.