Period: 1 August 2003 - 31 March 2004. Country: Egypt
(1) The Moderate Islamic Revival in Contemporary Egypt: A Study on the Muslim Brotherhood
YOKOTA Takayuki (Division of Southeast Asian Area Studies)
Key Words: The Muslim Brotherhood, Islamic Social Activities, Islamic Party, Reform of Interpretation of Sharia, Democracy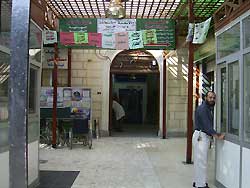 Faruq Hospital in Ma'adi, one of the hospitals run by the Islamic Medical Association.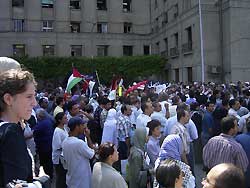 Demonstration supporting the people of Iraq and Palestine held in the center of Cairo on September 28, 2003.

(2) The aim of my Ph.D. dissertation is to examine the activities and ideas of the Muslim Brotherhood through an analysis of their Arabic texts and through field research, in order to understand the Muslim Brotherhood synthetically.
The Muslim Brotherhood was founded in 1928 by Hasan al-Banna (1906-49). It began the first da'wa (call to Islam) to the masses in the Middle East, and rapidly developed grassroots activities to mobilize the masses. After a crackdown under President Nasser, the Brotherhood experienced a revival in the 1970s. At present, it has developed many activities, such as medical clinics, publications and mutual help organizations, and has gained many members and supporters in Egyptian society. It advocates gradual and peaceful Islamic reforms, and is one of the most important moderate Islamic revival movements in Egypt.
However, despite its importance, little research has yet been carried out on the Brotherhood, and there is a clear need for further research. In my Ph.D. dissertation, I will examine the activities and ideas of the Brotherhood from the viewpoint of da'wa, its principal idea, will analyze the dynamic link between its ideas and activities, and will present a new perspective for understanding the moderate Islamic revival in contemporary Egypt. I will analyze the Brotherhood's ideas through interviews with members and by examining their writings and journals. In addition, I will carry out field research on its grassroots activities and the Wasat Party, which was formed by ex-members of the Brotherhood.

(3) In my fieldwork, conducted in Cairo from July 23, 2003 to April 30, 2004, I conducted research on the social activities of the Muslim Brotherhood. One is the Islamic Medical Association, which was founded by some pro-Brotherhood doctors in 1970s. It has about 20 hospitals in Egypt today, and provides patients with inexpensive medical services. I carried out interviews with staff, doctors and patients. Many of the respondents said that their work at the hospitals would advance the Islamic revival from individuals. I also conducted fieldwork on the Wasat Party, and interviewed the leader and members. I carried out research on its principle idea, "Islamic democracy," under which they claim that all Egyptian citizens, not only Muslims but also Christians, can enjoy freedom and equality. The Wasat Party is working to develop an Islamic revival not illegally but legally, within the political party system. This shows a new aspect of Islamic revival in contemporary Egypt.