Period: 19 January - 31 March 2005. Country: Tanzania
(1) A Study of Entrepreneurship and Social Networks of Small-scale Urban Traders in Tanzania
OGAWA Sayaka (Division of African Area Studies)
Key Words: Creation of Cooperativeness, Norms, Socio-economical Transformation, Second-hand Clothing Trade, Mwanza City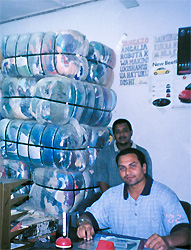 The amount of imported second-hand clothing and the wholesale price vary drastically depending on the decisions of wholesale traders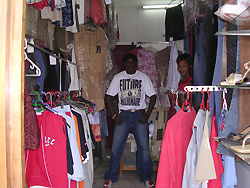 The new clothes market has expanded and become competitive with that of second-hand clothes

(2) The purpose of this study is to analyze, both synchronically and diachronically, socio-cultural factors that influence urban economic activities. For this purpose, I have focused on the unique norms and the creation of cooperativeness in the economic activities of small-scale urban traders.
Previous studies of urban economies have pointed out that small-scale urban traders used traditional social networks of mutual help to carry out their economic activities, since the majority of them were poor migrant workers with little capital or technique. To examine the arguments of previous studies, I conducted research on the business activities of second-hand clothing dealers in Mwanza, a northern local city of Tanzania. The research revealed that the business practices of second-hand clothing traders are formed based on a delicate balance between the profit-maximizing behavior of modern capitalism and the norm of mutual help. Therefore, their business practices can be said to follow some type of traditional norms. However, on the other hand, their practices have in some sense been created through daily business negotiations. Here, the new norms and cooperation created in urban life play an important role. It is assumed that the business practices of urban small-scale traders change from day to day in response to factors such as urbanization, socio-economic and political transformation in Tanzania, and changes in the international clothing markets.
Against this background, my doctoral thesis aims to elucidate two issues concerning second-hand clothing traders. The first is to locate the socio-cultural factors that have affected how they create unique business practices and cooperativeness within recent socio-economic and political changes in Tanzania. The second is to compare their business practices to those of people dealing with other commodities in cities. This study is expected to contribute to the study of entrepreneurship and social networks of small-scale urban traders in Tanzania.

(3) This research was conducted in Mwanza from 19 January to 31 March 2005, with the aim to diachronically analyze socio-cultural factors influencing business practices in the second-hand clothing trade.
I examined changes in business practices from the late colonial period to the present based on a literature survey of the National Archives and Dar es Salaam University, as well as by conducting interviews with about 300 traders. As a result, it became clear that the history of changes of business practices can be divided into five periods according to the basis of business, type of social relationships (kinships, same origin, ethnicity, and business ability), and the existence or nonexistence of credit transactions.
Through an analysis of policies and socio-economic statistical data, changes in business practices were found to be induced by the following factors: the availability and prices of second-hand clothes, increases and decreases in the numbers of traders, changes of trading areas, and relationships with Indian wholesalers. Moreover, similar business practices and ways of group formation have appeared in different business periods during the history of the trade. This suggests that the traders managed the changes induced by the above factors by making use of the inherited experiences and knowledge of the trade in the past.
If we classify traders according to the periods when they entered the business, they can be classified into five "generations." It was noticed that the different "generational" sets of transaction partners selected different business practices out of the existing varieties. It is assumed that these several business practices have converged onto certain types, which have constituted the dominant business practices in each period. In the case of fifth period, it was observed that the traders have been converging onto two different types of business practices.
The above points will be dealt with in detail in my thesis, and this will lead to better understanding of the socio-cultural factors that influence urban economic activities.