2. A Foggy Camp
However, once you enter the forest, you can see traces of human beings everywhere. In particular, hunter-gatherers such as the Mbuti and Aka, who are called "people of the forest," live in the forest, which serves as their homebases, and nurture their unique forest-based culture. Once you move deep into the forest, deviating from the village paths and through secondary forests, you find yourself right in the world of those forest people.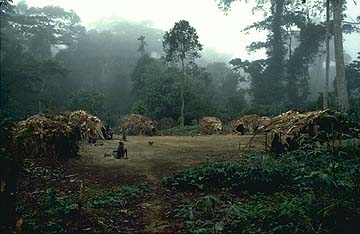 A foggy camp
3. A Snapshot in the Camp
From the time of the ancient Egyptian dynasties, these people were known as "Dancers of God," and they are true lovers of dancing and singing. When you hear their singing voices, you know the camp is not far.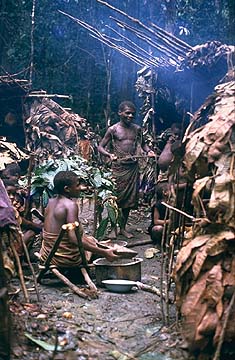 A snapshot in the camp
4. The Use of Plants in the Camp
Just by taking a look at a Mbuti camp, you can see how closely and deeply their life is related to the forests. For example, they live in hemispheric huts, which are made purely of plants from the forest. The woman in the front is grating the nuts of Gilbertiodendron dewevreii for supper. Behind her, a girl is making up her face with black dyestuff taken from squeezed Rothmannia whitfieldia fruit. Plants from the forest are used in many other ways, e.g. as materials for chairs, combs, hunting nets, etc., medicinal plants to cure various diseases, or as potions to ensure a good catch. It is not an overstatement to say that they cannot survive without the forest plants.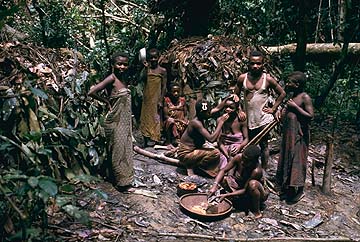 The use of plants in the camp