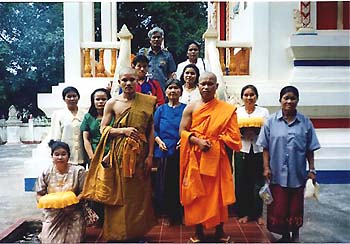 I was the only person with a camera in the village in which I resided in northeastern Thailand, and I was frequently enticed into acting as photographer at various occasions. The photograph accompanying this postcard shows Mrs. S (the woman at the very top of the group), and was taken on the occasion of her son's entry into the Buddhist priesthood. The son, of whom Mrs. S was very proud, is the monk on the left in the center of the front row.
The day after the photograph was taken, Mrs. S fell from the bike that her husband was driving and suffered a heavy blow to her head. For a time, she lost consciousness. Shock soon spread amongst everyone in the village. For a while, Mrs. S. hovered between life and death, but then made a miraculous recovery and is now recuperating at home. While relieved by her recovery, I was struck by her change in behavior following the accident.
The accident happened in front of the shrine of the town's guardian spirit. "The spirit ," said Mrs. S, "was trying to take me to the other side. The person who had been my husband in a previous existence was trying with might and main to get me to come to him." Day after day, she seemed to be portraying in detail the cause of the accident, and the nature of the other world as she had glimpsed it while she was hovering between life and death.
Her conversation was at first incoherent, but in the course of talking to many people, her remarks became more consistent. Her latest story is that having refused to go with the person who had been her husband in a previous existence, she asked Yama, the God of the Hell, as to whether or not she ought to go. Yama had looked in his register and had answered, "Your time has not yet come." He told her she had to return to the world of human beings. The gate of a temple then appeared before her, making her feel as though she would like to return, and she asked, "Can I come in?" She was permitted to enter. In the temple there was a linden tree, and children who were taking various kinds of fruit. She then asked to see hell, and spent the remaining of time looking around hell before returning to the world of the living. "But I can't remember the name of the person who had been my husband in a previous existence," she says.
Mrs. S, who says she has visited and returned from the other world, now attends all kinds of Buddhist rituals as a religious idol. Those in charge of the rituals introduce her as "Mrs. S, who managed to return to life from death, as she has accumulated much merit." Whenever I look at the photograph, I do so with complicated feelings.